Georges on Fifth Restaurant
835 5th Avenue, San Diego, CA 92101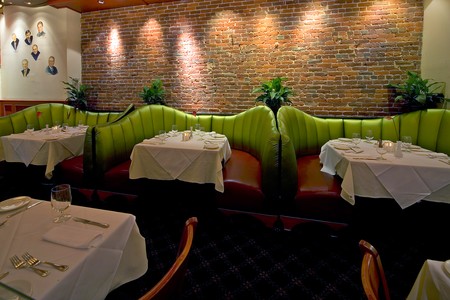 Description: G5 - Georges on Fifth
Copyright: SanDiegoRestaurants.com
Restaurant Photos
Restaurant Review
Georges on Fifth: San Diego's Steakhouse
Review by: Lauren Duffy
Features

Business Dining
Child Friendly
Dining Alone
Dog Friendly
Full Bar
Happy Hours
Healthy Options
Live Entertainment
Local Favorite
Lounge / Bar
Meet for a Drink
Outdoor Seating
People Watching
Personal Wines Allowed
Private Room
Prix Fixe Menu
Quiet Conversation
Romantic Dining
Smoking Area
Special Occasion
Takeout Available
Valet Parking
Wheelchair Access
Winning Wine List
Georges on Fifth sits on the ground floor of one of the most photographed buildings in the Gaslamp quarter, occupying a notable historical space. In the 1880's the restaurant was home to Wyatt Earp's (then-legal) gambling hall and saloon, The Oyster Bar. Today, Earp's presence permeates the restaurant, from the giant mural of his likeness overlooking the bar to the preserved card room where he dealt cards, which now serves as a private dining room offering an unrivaled view of Fifth Avenue.
Upon arriving at Georges', we received a gregarious greeting from George L. Harrington III, the restaurant's owner and namesake. He led us through the gentle curves and bold colors of the main dining room to a plush semi-circular booth against the building's original brick wall. We passed by the grand piano where, on weekends, Grammy nominated pianist Tom Barabas graces Georges on Fifth with his talents.
Seated, our eyes were drawn to the dramatic two-story walls, which are adorned with vivid portraits of significant San Diego personalities. Wyatt Earp is in good company--figures from Dr. Seuss to Dr. Salk have been painted on the walls by former Disney and San Diego Zoo portrait artist John Wismont. After testing our knowledge of the accomplishments of various San Diegans, we turned our attention to the menu.
The menu at Georges focuses on quality, epitomized by a commitment to serve only USDA Prime steaks. Georges' generous selection of Prime steak cuts are joined by a seafood selection of equal quality, as well as veal, lamb, pork, duck, and free range chicken. Our server, Kirsten, enthusiastically recommended many of George's Signature Dishes, all starred on the menu, highlighting the Grilled Pork Chop and the Prime Filet Mignon as staff favorites.
It is because of these Signature Dishes that Harrington is reluctant to call his restaurant a steak house, although steak and seafood are what Georges on Fifth is known for. The menu refuses to conform to the traditional "steakhouse way" of serving unadorned entrees while offering vegetables and starches a la carte. At Georges, while the selection and preparation of meat receives enormous attention; equally doted on are the accoutrements and, not least of all, the presentation. Executive Chef Jose's Kelley's talent lies in his ability to focus on appearance and flavor simultaneously without detracting from either.
We started our meal with a sampling of signature starters, along with a glass of medium-bodied 2003 Chalk Hill Estate Chardonnay, which proved a well-suited accompaniment. Kirsten first brought us Dungeness Crab Cakes drizzled with a colorful array of sauces—red bell pepper cream, classic béchamel, and delicate chive oil. The aroma of the two crab medallions wafted up to awaken our senses as we eyed the festive dish. With each bite a delicate crunch gave way to a creamy center that resonated with intense flavor. The red bell pepper cream was sweet and rich, while the unique flavor of the chive oil offered a subtle bitterness.
Next we sampled the California Seafood Bisque, which again delighted our eyes before our palates. The rich golden soup was populated by a New Zealand green-lipped mussel, a solitary prawn, and a small square of salmon, all aligned as if they were marching across the bowl. To their side an unassuming poppy seed crouton floated atop the viscous soup. The soup itself was rich with flavor yet somehow not that heavy, offering up a creamy essence of the sea with each bite.
While many of the salads looked appealing, we decided we could not pass up the Tower of Tropical Tuna Tartare, which upon arriving confirmed our decision. The dish was beautifully plated, running the gamut of colors and textures. A thin layer of sauces coated the plate in a prism-like effect, with brown hosin glaze fading into golden citrus ponzu fading into light green chive oil. Crowning the plate was a lively bright pink stack of saku tuna topped with a pale layer of pineapple, deep green seaweed salad and an explosive nest of crunchy wontons. We found ourselves reluctant to dig in, not wanting to disrupt the beautiful presentation. But dig in we did, and we were delighted. The saku tuna, which is sushi grade yellowfin from the underbelly, was more flavorful than most sushi. Firm, with a satisfying give and bursting with flavor, we almost forgot it was uncooked. My date, ordinarily not a tartare fan, was especially surprised at how much he enjoyed the dish.
We next turned our attention to the entrees, but not before chatting with the sommelier. Rick Bates joined Georges on Fifth about two months ago, bringing expertise from the Napa Valley Grille and the Yard House in Irvine. His first move was to revamp the wine list to provide an accessible selection of familiar wines alongside those from lesser known vineyards, hoping "to introduce folks to wines they might not try." At Rick's recommendation, we opted for a 2002 Chalk Hill Cabernet Sauvignon, which seemed fitting as we had sampled their chardonnay earlier.
As we let the wine breathe we took in the entrees as they were set in front of us. The Jumbo Sea Scallops presented a delightful array of four panko-coated scallops arranged around a nest of crunchy chives and tomato coulis. Atop each scallop sat a generous dollop of sundried tomato tapenade, while underneath hid a thin sliver of new potato, all drizzled with house made Green Goddess sauce and red pepper cream. Chef Kelley uses only dry day boat scallops, which are sold the day they are caught and are not preserved with any additives. The difference is phenomenal, as these scallops are intensely flavored, deliciously sweet, and firm to the bite. Each bite of the gently seared scallops provided an intense burst of almost buttery sweetness.
Then there was the steak—the signature dish on the menu. An eight ounce Prime Filet Mignon of Certified Angus Beef® commanded its plate, sitting tall in a shallow sea of port wine demi-glace. Accompanying it were sliced fingerling potatoes, shitake mushroom ragout, and a generous cut of Roquefort cheese. The sensation of biting into Prime Angus filet mignon deserves a moment's contemplation: the meat, soft to the touch and barely requiring a knife to slice through its tender grain, feels like velvet and practically dissolves upon touching the tongue. After a pause, savoring our first bites, we ecstatically tackled the rest of the dish, delighting in the firm give of the fingerling potatoes, the woodsy bite of the ragout, and the ideally-suited port wine demi-glace and creamy Roquefort. The dish was absolutely sublime.
Feeling that we could not be more satisfied, we were surprised when our desserts proved us wrong. Several of Georges on Fifth's desserts are prepared in house, and their freshness is evident. The Grand Marnier chocolate mousse, served in a wafer-thin candied almond bowl rooted to the plate with crème fraiche, was an explosion of decadence. The Berries and Cream, also served in a candied almond bowl with airy crème fraiche, offered refreshingly light sweetness, an ideal conclusion to a decadent meal. We also sampled the white chocolate raspberry cheesecake which, while not prepared in house, was admittedly addictive, with a tart creaminess and gentle texture.
Georges on Fifth was developed as a "local's place"—and everything from the portraits on the walls and the building's rich history to the inviting atmosphere suggests that locals will feel at home. The staff is friendly, the sommelier approachable, and the owner one of the most gregarious hosts around. Details such as a low-priced children's menu and live entertainment clearly have the local in mind. However, the menu, with its exclusive selection of Prime meats and quality seafood, makes Georges no ordinary "local's place." Whether you are in San Diego for the weekend or have lived here for years; whether you are looking for a taste of history or a taste of Prime Certified Angus Beef ®, Georges on Fifth provides an elegant and epicurean dining experience for San Diegans and visitors alike.
Copyright © 2015 RestaurantAgent.com
Video
Video is coming soon.
Customer Reviews
Users are solely responsible for the content of the comments they post here. All comments are subject to the terms and conditions of RetaurantAgent.com and do not necessarily reflect the opinion or approval of RestaurantAgent.com
Wonderful
Name: Larry | Date: March.21.2013
Quaint, throwback type of restaurant...Quiet, very nice...Food was excellent..The Tuna tatare was very good ...Service was top rate
Customer Dinner
Name: Ellen | Date: March.14.2013
Food delicious and wine at terrific prices! Would definitely return.
Valentines Dinner
Name: Pablo | Date: February.21.2013
Well, here we go again! It is Valentines Day and I am searching for a restaurant for my Honey. I have been wanting to go to Georges for a while now and figured tonight woudl be the night. Well, I must say that I was thoroughly impressed with the location, service, and especially the food. I have read many reviews about this place with some recommendations. I followed most, if not all of them. We started off our night with some crab cakes that were delicious. We followed it up with their seafood bisque (just about every review recommended it). It was fantastic and the portion was definitely a bit generous. For the main course, I had their double sized pork chop. It tasted great with their vinegary sauce and the sweet potato mash was very delicious. My wife had the lobster linguni. She did not care for it too much, but it was a very generous portion and the taste was ok. We finished it all up with their creme brulee. Overall, we were not disappointed at all with Georges. Our waiter, Mike, was very good and his supporting cast were very attentive to all of our needs before we even asked. I would definitely return to Georges again!!
Soup of the Day
Name: Robert | Date: January.17.2013
As wonderful an overall experience I had once again at Georges on Fifth in the Gaslamp District, I found the chef's soup of the day was a BEST BUY. Frankly speaking, for the $6.00 a bowl charge I don't believe they can stay in business. The soup could have been considered a whole meal by itself: Beef/vegetable with enough steak tenderloin cuts and mixed vegetables to have taken care of my appetite all by itself. I had the teriyaki stir-fry vegetable dish as the entree for $18.00 which could have accommodated two people. On top of the reasonable cost for the delicious meal, George's offered a 20% coupon I found online good for Saturday evening during Restaurant Week. Bon Appetit!!
Best Filet Mignon Ever!!!!
Name: Michael | Date: July.11.2012
So I live far north of S.D. and took my lady to dinner there just by looking through the internet, I made reservations. We arrrived to a nice little spot with a private patio. We chose to eat inside. There is quite a bit of history to this place, I won't ruin what the history is you have to go find out for yorself. But the filet they have there is hands down thee best steak I've ever had. Cooked to perfection upon your request and the flavor was incredible and this is NO small filet by any means. The waiter there was mollasses for only 3 tables being there but that wouldn't stop me from coming back for this steak again. Ill just make sure and ask for another waiter..and I still tipped him very generously just because of my meal. So hats off to the chef.
Delicious food, great atmosphere.
Name: Kim | Date: May.31.2012
This is a great restaurant with delicious steaks and a nice atmosphere. We had a great waiter, and although the menu was pricey (as to be expected in an upscale restaurant downtown), I was actually suprised at how reasonable the bill was at the end for a party of 7 (even with an appetizer, dessert, and 2 bottles of wine).
GI Faculty Dinner
Name: Curt | Date: May.24.2012
Surprizingly a great place for a large group.
Above Average
Name: Joshua | Date: April.12.2012
It is an above average restaurant with above average food and service for an above average price. I would absolutely go back again.
First time in San Diego
Name: allan | Date: January.22.2012
Great Food, Great Service
Pan seared scallops
Name: Tom | Date: November.23.2011
The diamond next to the dish on the menu is the clue to George's specialties.
914nut
Name: George | Date: October.14.2011
Nice restaurant.Good service,but the entrees for the price should of included a side dish!
Great meal at George's on 5th
Name: Steve | Date: October.13.2011
WE loved the cozy and warm atmosphere along with the food. The booths are great for intimate dining.
Good date night
Name: Emily | Date: October.07.2011
Overall, a nice experience. A little pricey for the average joe, but very good food, nice ambiance, friendly waiters.
George's on 5th great
Name: Leland | Date: June.23.2011
Food is excellent and service efficient, but not overpowering (not pushy). The atmosphere is quiet, allowing an intimate private evening evening. The history connection with the early west's Earps is interesting.
Great meal
Name: Mike | Date: June.16.2011
Restaurant has a nice feel, I liked it.
Date Night
Name: Christina | Date: May.05.2011
We had 7:30 reservation and arrived on time. I was surprised that the crowd was a lot older than we are(mid 30 - 40) at that time of evening. By the time we left, the crowd was closer or even younger to our ages. With that said, the service was really great. Our server knew alt about the restaurant history and the building, and of course the food and wine selections. He told us what he restaurant was known for as well as what his favorites were and why. As a result we got exactly what we expected and enjoyed everything.
Georges on Fifth
Name: Andrea | Date: March.14.2011
This was our second time dining at Georges. The atmosphere was comfortable and warm. The service was good and food outstanding.
Great dirty martini
Name: Tina | Date: March.10.2011
The steak and martini and dessert (key lime pie) was excellent. The side dish of vegetables was just so-so for having to pay extra for it. The potatoes were good. The service was excellent! The bathrooms are a little shotty for such a nice restaurant and the table for 2 felt a little cramped against the wall or next to a pillar. Otherwise the atmosphere was very nice.
Excellent for first time visit
Name: Mike | Date: March.08.2011
The restaurant was a differerent experience for the 2 of us, who really dont go out to classy restaurants. The food was wonderful and had good flavor.
Perfect restaurant for a business dinner!
Name: John | Date: February.04.2011
My bosses loved this restaurant! They said it was fantastic all around.
Love G5
Name: Allen | Date: September.16.2010
I Love G5. THis is one of my fav resturants in San Diego. The food is great and love the history of the building.
Amazing!
Name: Lauren | Date: September.16.2010
My fiancé and I went there for our first time on his 24th birthday and our last date night before he was shipped out for boot camp. This place was the perfect place for our last date night. The decor was beautiful, the waiter was amazingly nice, food was delicious and the bar was amazing. Definitely recommend this place!
Would dine at G5 again.
Name: Stan | Date: February.07.2009
I visited G5 on Friday Feb 6th 09. I made reservations in the Wyatt room, and had a special request for the pianist to perform a certain song for me. The reservation request, (my first through this SDR website) went through without any hassles or hold ups, and within approximately one hour or less I had confirmation on the request from G5. I was sorry to hear that the pianist was no longer performing at G5, however they were in the process of trying to find a replacement so that I could hear my requested song while dining, (very thoughtful of them).
When I showed up, the hostess was very welcoming and polite, and not to mention she was extremely cute as well. I was also sad to see George did not greet us though. We were promptly seated at our table. The service then and through-out the rest of the night was great. First up was the bread and butter to hold us over. It was absolutely incredible. Small pieces of french bread with a light butter, it was so good.
Then we ordered Banko fried shrimp and a bowl of their seafood bisque soup as an appetizer. The seafood bisque soup was a bit overdone with the seafood portion I thought with large mussels, shrimp, and clams/oysters in the shell, however the flavor was good. The Banko friend shrimp were excellent, crispy and crunchy. Next, for our meals we ordered a bone-in Rib Eye, an 8 oz. prime cut Filet Mignon (not the certified Angus beef cut) and the Fettuccine Alfredo with Chicken, with baked potatoes and asparagus as sides. The Filet I had was very tender, although a smidgen bland in the flavor department. The cut itself was a very nice cut of beef however. The potatoes were nothing to rave about. Per my other guests, the Fettuccine Alfredo with chicken breast and bone-in Rib Eye were excellent.
As we were finishing our meals George made an appearance and greeted the guests dining at the table behind us, and spoke with them at length. As he finished speaking with them, he moved out of the Wyatt room and never spoke to us. We did not try any desserts, but they had a nice selection of after dinner drinks and desserts and a lot of them sounded delicious. My experiences were not bad by any means, just a few things left out that would of made the night and experience exceptional.
Best Steak, Best Live Piano!
Name: Peter | Date: August.02.2008 George's on Fifth has the best Meat selection. I recently dined with a client and we both ordered the Lamb. Excellent!! My client became an instant regular! Service, Wine selection & the Historical significance of Wyatt Earp's Gambling Hall and Saloon is striking. The Live Piano music is the best in San Diego, Period! The Pianist, Peter the Prince of Piano is a Winner of the Liberace Crystal Piano Award, Catch a Rising Star and Super Star Talent Searches. Peter's performance emcompasses quiet dinner music to show stopping, bench licking selections when appropriate. Peter the Prince of Piano is a regular with the San Diego Symphony Summer Pops each year. He has opened for Marvin Hamlisch, Burt Bacharach, Monica Mancini nad others...GO TO GEORGE'S ON FIFTH!!!
great time!
Name: Anthony | Date: December.29.2007 Not a frequent Gaslamp diner, however I wanted to show my son and his new girlfriend a wonderful time. It was a Friday night before New Years, however the atmosphere was casual and quiet...perfect for a "get to know" occasion. Our server was a young man who was formal, outgoing, and made our fine dining experience very comfortable. The food was amazing! Lamb, halibut, salmon. Truly more then just a steakhouse. Can't wait to go back!
very nice!
Name: Charlton | Date: June.02.2007 good amount of food, great atmosphere with live piano playing. overall, very nice!
Amazing Atmosphere
Name: Emily | Date: March.27.2006 I dined here on a Friday night and it was great. The piano was great for the mood and the food was really good. I had the prime filet and my date had the scallops. Our bottle of pinot noir was top notch. Defintely worth going back even for the price.
Excellent
Name: Jose | Date: October.19.2005 This restaurant has the greatest service and the food was outstanding, highly recommended. A++++++++
WONDERFULL
Name: RICARDO | Date: August.12.2005 It had been some time since I took my wife out to dinner; so at 7 months pregnant we decided to go to G5; and it was worth the wait. George greeted us and took us to our table, he was very attentive to my very pregnant wife; the food was excellent and the best part for us was the service. If you get the chance to go, you won't regret it.
Great steakhouse
Name: gary | Date: March.08.2005 G5 was a great steakhouse. ALthough pricey, the filetmignon was superb and the ambience was delightful. Definately a place to visit in San Diego
promotion
Name: Ryan | Date: February.28.2005 A+, George greeted us and sat us at our table, service was excellent and the food was incredible. would go back again.
The best Filett Mignon ever
Name: Tom | Date: December.18.2004 My name is Tom Barabas and I play the piano at G5(George's on Fifth) close to 5 years. On my last birthday even that I work in the restaurant Wednesday to Saturday every week I decided to celebrate at G5. I consider myself a Filett Mignon expert kind of. I love a good beef and I have been in many restaurants during my concert tours all over United States and especially San Diego where I live for most of my life. I have been in Mortons, Donovan, Gray Stone, Ruth Chriss and many others. The Filett that I had on my last birthay about 2 weeks ago was the best and most outstanding in my life. I had the 12 ounces and my wife had the 8 oz. and we both cleaned our plate completly. If anybody would like to taste the best of the best visit G5. If I know I will play your favorite song too.
Great Atmosphere
Name: James | Date: December.06.2004 Had dinner on a Sunday night. Restaurant was very empty. Only about 3 other tables. Entire Gaslamp district was empty. Service was excellent and the prime rib special was to die for.
Still Our Favorite
Name: Paul | Date: October.02.2004 What a great meal! We were proud to take our business guest to G5. The food was terrific, the service was very professional and the atmosphere was sophisticated. We each had a different starter, entree and desert and we all loved our choices. The side walk patio makes for great people watching and the pianist played "Time To Say Goodbye" especially for us. Perfect!!!
disappointed
Name: William | Date: August.17.2004 I have heard so much about G5 that I just had to try it and share it with out of town guests. Overall the atmosphere was so so; the service was mediocre and the food was not anything to write home about. The mushroom soup had to be sent back because it was so salty. One of the filets came out different then how we specified it to be. We ordered 2 cabernets by the glass only to find out that they did not have any available....what, no cabernet by the glass??? Wow!!!! Furthermore...as a female writing this review, I was a bit turned off that the male wait staff was uneducated in the area of White tanks or 'wife beaters' that should ALWAYS be worn under a dress shirt (the nipple/hairy chest action not cutting it!). I will go to Greystone the next time!!
Just okay
Name: P | Date: May.26.2004 The atmosphere is nice when the piano is playing, the service is good when they are not busy and the deserts are good with the free coupon. Actually the food was fairly good, I had the linguine with lobster and she had the halibut. Mine was good, but had to add salt and pepper to give it some more flavor. Her's was actually pretty good with a little Chipolte kick. We went on a Wednesday and they advertise their martinis are $5 (on Weds), but it turns out only when you are sitting at the bar, otherwise they are $8(That kind of pissed me off). She had a chocolate martini that was again "okay", they don't use Godiva liquor so it's a bit watery. After dinner, we agreed that it wasn't bad, just okay...not worth $120 with tip. If you are fine with mediocrity, then give it a shot...but if you're looking for a "knock your socks off" dinner, I suggest to look elsewhere.
Lobster Martini!
Name: Mary | Date: May.14.2004 Would go back for the delicious lobster martini! The other menu items were just so-so.
Just Superb
Name: jim | Date: April.02.2004 After several dining experiences at G5 I felt compelled to share my excitment at finding such a jewel of a resturant. The food, service, and ambience has repeatly been special whether for business or with my family. I look forward to my visits to San Dieg if just to enjoy the fresh fish and the great steaks. Tell George Jim sent you!
Food, service, entertainment
Name: John | Date: April.01.2004 What a treat to visit - the service from the greeting to the check were superb. The food was fabulous and the entertainment was perfect for our evening. Our server, Maria served up a delicious lobster starter in a martini glass. The entree, a certified Angus filet was the finest cut of beef I have ever eaten. What really made the evening special was the owner, George constantly tending to our table after each course was served. It has been too long since I have enjoyed such a wonderful evening in such a gracious setting. Thank you, George.
great atmosphere and food
Name: deborah | Date: April.01.2004 My husband and I love to go to G-5 for the pork chops, wonderful service and to listen to Tom Barabas the award winning pianoist. It's a great place to meet friends even if just for a drink and an appetizer. George Harrington (owner) is so warm and friendly, that he makes you feel welcome and at home. We recomend "Georges on Fifth" for any special occasion.
Best Steak
Name: Charles | Date: March.31.2004 I have eaten in restaurants from the East to West Coast and can honestly say i have never had as good a steak like that 28 day wet aged angus served at G5. The service was crisp, friendly and attentive. The atmosphere sophisticated yet not intimidating. The night my wife and i were there we had the pleasure of enjoying the music of their Grammy nominated pianist. I highly recommend this restaurant. Every friend and colleague travelling to San Diego are encouraged to stop and experience G5. Chas Reece VP Hotel Operations Foxwoods Resort Casino Mashantucket, CT.
Best of the Best!
Name: George | Date: February.27.2004 Words can't describe this place. Excellent food, Excellent service, Excellent EVERYTHING! You must experience this place to really appreciate it.
The best steak ever!!
Name: Anthony | Date: May.31.2003 We went to G5 last night, and it was the best ever! My husband loves his steak and he had the filet, he was in heaven. The service was excellent, we will go back.
Great Steak and Seafood
Name: Darla | Date: April.23.2003 Had dinner the other night with a friend and he had the filet and I had the sushi entree. Both were some of the best we ever had in town. The piano player Tom? even came over to say Hi! I was even more amazed when the owner came by, George, to check on us. This was amazing service and a very friendly staff! Thank You
Q & A
Have a question about this restaurant? Ask the Agent!
Agent Tips
Agent Tips come from the insiders - those who dine out frequently and know their favorite restaurants inside and out. Tips are like bonus knowledge - they might not make or break an experience but can certainly prove helpful. Know something about this restaurant you'd like to share? Submit a tip here.
---
Navigation Links
Restaurant Info
| | |
| --- | --- |
| Cuisine: | Steak |
| Neighborhood: | Downtown |
| Cost: | 3 |
| Dress Code: | Business Casual |
| Tel: | (619) 702-0444 |
| Website: | Website |
| E-mail: | Email |
| Open Since: | 2002 |
| Cuisine: | Steak |
| Neighborhood: | Downtown |
| Cost: | 3 |
| Dress Code: | Business Casual |
| Tel: | (619) 702-0444 |
| Website: | Website |
| E-mail: | Email |
| Open Since: | 2002 |
Map & Directions
Address: 835 5th Avenue, San Diego, CA 92101

Menus & Wine List
Business Hours
Monday
Dinner:
5:00PM - 10:00PM

Tuesday
Dinner:
5:00PM - 10:00PM

Wednesday
Dinner:
5:00PM - 10:00PM

Thursday
Dinner:
5:00PM - 10:00PM

Friday
Dinner:
5:00PM - 10:00PM

Saturday
Dinner:
5:00PM - 10:00PM

Sunday
Closed
Chef Profile
Executive Chef Jose Kelley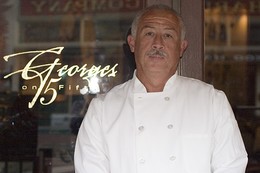 Even after thirty years in the restaurant industry, Executive Chef Jose Kelley is humble about his talents. When asked about the kitchen he runs at Georges on Fifth, Kelley smiles, graciously claiming "There's not much to what I do." Anyone dining at Georges, however, might think otherwise after sampling expertly prepared steaks, seafood, and game from Kelley's kitchen.
"We serve quality ingredients that are prepared simply," Kelley explains, which seems a bit of an understatement. The ingredients used at Georges are not only quality--they are some of the best available. The steaks range from USDA Prime to Kobe, the seafood is exclusively fresh, and the vegetables purchased from a local family-run operation. While Kelley may prepare certain dishes "simply," this is mainly because the high quality entrees need little to accompany their sumptuous flavor. Other dishes it should be noted, such as the Tower of Tropical Tuna Tartare, involve preparation and presentation that are certainly not as simple as Kelley claims.
Kelley's career has led him from part time line cook to Executive Chef, taking him through many fine San Diego restaurants. After high school, which he attended in San Diego, he worked at Cafe Pacifica, Rainwaters, and 5th & Hawthorne. As each of these restaurants emphasized steaks and seafood on their menus, they allowed Kelley to gain valuable expertise on quality meat and seafood preparation.
For the six years he has been at Georges, Kelley has been commanding the historic building's small kitchen, which he finds a comfortable challenge. Six days a week, Kelley stations himself at the most important spot in the kitchen: grill side.
Kelley is more than eager to share his knowledge about how quality steaks are best prepared, and his formula is simple: the better the meat, the rarer you should eat it. This, he explains, is because much of a fine steak's flavor is lost through the cooking process. He recommends ordering USDA Prime steak no more cooked than medium rare, since all the flavor of a high quality steak is lost when cooked to medium or longer. By ordering a Prime steak medium—Kelley almost cringes—"you could be eating any kind."
Kelley explains that it takes a sophisticated palate to discern the difference between Choice, Prime, and Kobe, just as it does to tell a $50 bottle of wine from a $100 bottle. What better place to develop your taste than Georges on Fifth?

Signature Recipes
Recipe Name
| | |
| --- | --- |
| Course: | Dessert |
| Cuisine: | French |
| Main Ingredient: | Chocolate |
| Cooking Method: | Dessert |
| Occasion: | Any occasion |
| About: | This is a traditional French style Mousse au Chocolat |
| Serves | 2-5 |
Part 1. Chocolate Mousse
Ingredients
6 oz. semisweet cooking chocolate
1/3 cup milk
4 oz. (about 1/2 cup) finely granulated sugar
2 egg whites
1/2 cup heavy cream
Directions
Place chocolate in to top of a double boiler. Add the milk and heat slowly until chocolate is melted. The mixture should be fairly thick. Stir in sugar and let the mixture cool.
Beat two eggs whites until stiff and fold into the cooled chocolate mixture. Whip the heavy cream, fold into the mousse, and serve at once. Add more whipped cream if you desire a lighter consistency.
Note:
Recipe can be served with seasonal fruits, poached pears, berries and so on. Add a splash of dark rum or Kahlua if desired.
Part 2. Rasberry Syrup
Ingredients
6 oz. semisweet cooking chocolate
1/3 cup milk
4 oz. (about 1/2 cup) finely granulated sugar
2 egg whites
1/2 cup heavy cream
Directions
Place chocolate in to top of a double boiler. Add the milk and heat slowly until chocolate is melted. The mixture should be fairly thick. Stir in sugar and let the mixture cool.
Beat two eggs whites until stiff and fold into the cooled chocolate mixture. Whip the heavy cream, fold into the mousse, and serve at once. Add more whipped cream if you desire a lighter consistency.
Note:
Recipe can be served with seasonal fruits, poached pears, berries and so on. Add a splash of dark rum or Kahlua if desired.
Tip
Recipe can be served with seasonal fruits, poached pears, berries and so on. Add a splash of dark rum or Kahlua if desired.
Special Offers & Coupons
Restaurant special offers and coupons
Calendar of Events
Job Opportunities
Submit a Restaurant
Can't find your favorite restaurant? Submit it to our website. Anyone can do it and it's Quick, Easy & FREE! Submit Restaurant
---